Celebs Style
Guys' Choice Awards 2014, tutte le foto della serata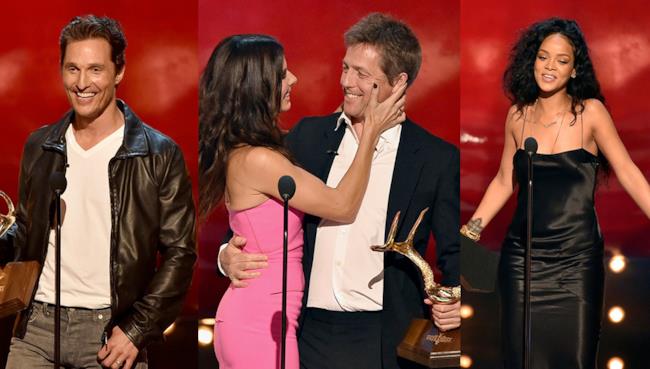 Sabato 7 giugno si sono tenuti i Guys' Choice Awards 2014 i premi per le produzioni televisive creati da Viacom in collaborazione con l'emittente Spike fin dal 2007.
i Guys' Choice Awards sono l'equivalente degli MTV Movie Awards e i vincitori delle varie categorie sono eletti direttamente dai fan e dai telespettatori.
In questa edizione ci sono stati delle new entry come vincitori tra cui la tanto chiaccherata Rihanna che ha vinto il premio come donna più desiderata "Most Desireable Woman". La cantante sta riscuotendo un sacco di premi tra cui vi ricordo l'ultimissimo come Fashion Icon ai CFDA. Rihanna in tale occasione si è presentata nuda con "solo" 216 mila Swarovski incastonati nell'abito di Adam Selman mentre per i Guys' Choice Awards ha optato per un look più dark in total black.
Il premio "Guy of the Year" è andato al super attore e sex simbol Matthew McConaughey, "Smartacus" a Chris Hardwick, "Our New Girlfriend" ad Emily Ratajkowskyi, e tanti altri.
Se volete vedere tutti i vincitori degli Spike Guys' Choice Awards 2014 potete andare sul sito ufficiale. La serata di premiazione di quest'anno si è tenuta al Sony Pictures Studios in California.